EVERFI Award
Glacier Bank Receives Financial Capability Innovation Award from EVERFI and The Financial Capability Network
Washington D.C. – Glacier Bank was honored with the 2018 Financial Capability Innovation Award presented by the nation's leading technology innovator, EVERFI, Inc. The award recognizes Glacier Bank's significant efforts to improve the financial capability of Americans through unique digital learning initiatives.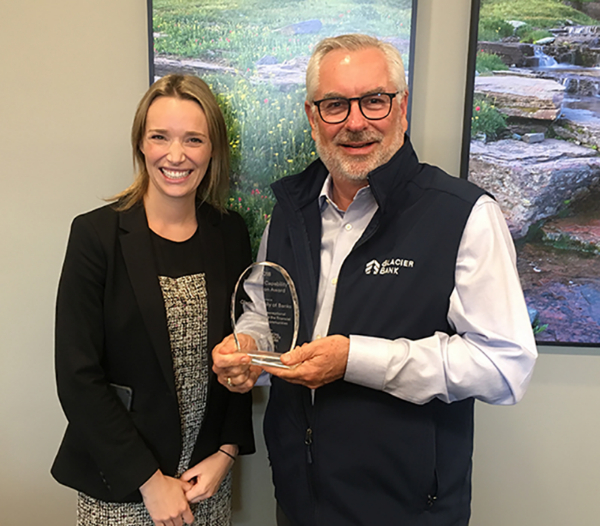 Photo of Bob Nystuen, Market President of Glacier Bank and Heather Hicks from EVERFI.
Honorees were selected based on a set of criteria that included the scale and reach of their financial education initiatives, the duration of their commitment, and unique employee volunteering activities that supplement their programs.
"Each year, we honor institutions that are truly dedicated to going above and beyond in service to their communities," said Ray Martinez, EVERFI President of Financial Education. "The Financial Capability Innovation Awards have given us the opportunity to share and celebrate the tremendous investment these institutions are making and continue to make in the communities where they live, work, and serve. For EVERFI, our time here reminds us just how critical the role innovation continues to play in empowering Americans to pursue economic opportunity and achieve financial security for themselves, their families, and their community."
Glacier Bank is committed to providing students with the skills and knowledge needed to successfully navigate the increasingly complex financial world we live in. Glacier Bank has partnered with EVERFI to bring Financial Foundations to local students at no cost to schools or taxpayers. The web-based program uses the latest in simulation and gaming technologies to bring complex financial concepts to life for today's digital generation.
Administered by teachers in a classroom setting, the web-based course offers over six hours of programming on a variety of financial topics including credit scores, insurance, credit cards, student loans, mortgages, taxes, stocks, savings, 401k's and other critical concepts that map to national financial literacy standards. The platform uniquely tracks the progress and performance of every student.
Further, Glacier Bank partners with EVERFI to provide a financial literacy and capability adult learning platform for customers, community organizations, and employees.
About

 

Glacier Bank
At Glacier Bank, we believe in relationships - not just banking, which is why we have a business focus of service at our core.  That focus of service goes beyond the walls of our buildings and extends out to the communities in which we reside.  We understand the immense role our communities play in our success and our employees are passionate about actively participating in the community through various volunteer roles.  Another endeavor of ours is financial education.  Regardless of your age or financial status, financial education plays a vital role in your success. 
Glacier Bank was founded in 1955 in Kalispell, MT and is a subsidiary of Glacier Bancorp, Inc. (GBCI).
About

 

EVERFI
EVERFI, Inc. is the education technology innovator that empowers K-12, higher education, and adult learners with the skills needed to be successful in life. The company teams with major corporations and foundations to provide the programs at no cost to K-12 schools. Some of America's leading CEOs and venture capital firms are EVERFI investors including Amazon founder and CEO Jeff Bezos, Twitter founder Evan Williams, and Google Chairman Eric Schmidt.  Learn more at everfi.com.